Four members of the DaSe Lab - Michelle Cheatham, Aaron Eberhart, Pascal Hitzler, Cogan Shimizu - visited the 16th International Semantic Web Conference, ISWC 2017, this year in Vienna, Austria, which is the key conference in the field.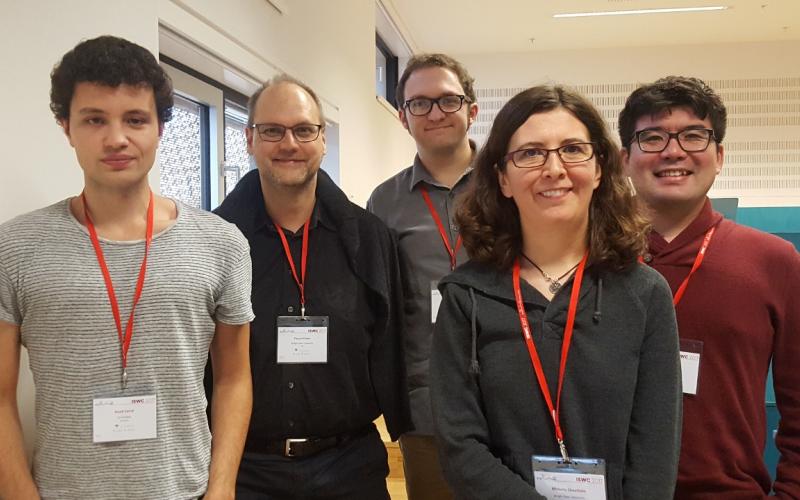 David Carral (now at TU Dresden, Germany), Pascal Hitzler, Aaron Eberhart, Michelle Cheatham, and Cogan Shimizu at ISWC 2017
And we kept rather busy there. The activities we were involved in were diverse:
We had several papers and posters at workshops, listed below.
Michelle Cheatham co-organized both the OM and PrivOn workshops.
Pascal Hitzler co-organized the HSSUES workshop and the ISWC2017 Journals Track.
Pascal Hitzler gave keynotes at both the WOP and WOMoCoE workshops.
Pascal Hitzler is on the Steering Committee for the WOP workshop series.
Pascal Hitzler held the Editorial Board meeting for the Semantic Web journal in his role as Editor-in-Chief and chaired one of the sessions of the main conference event.
In terms of PC memberships, we had Michelle Cheatham (posters and demos track), Pascal Hitzler (resources track, PhD symposium, senior for the research track; and for RBM and PrivOn workshops), Adila Krisnadhi (research track, industry track, WOP workshop), Cogan Shimizu (WOP workshop)
Reihaneh Amini, Md. Kamruzzaman Sarker, and Lu Zhou contributed as multiple subreviewers for the resources track, the research track, and the in-use track.
Papers/posters:
In addition, Pascal Hitzler wrote a blog post on key insights from the keynote delivered by Google's Jamie Taylor at the conference. ​